Anti-fog, clear view and high durability.
Supplying film for face shields to reduce burden at the medical frontline
Maintaining clarity for hours to reduce healthcare workers' strain even in extended wear
Using photographic film technology to supply a material for face shields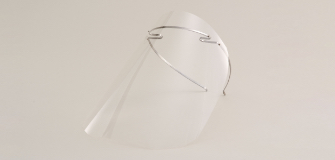 Fogging and low clarity… Typical headaches of face shields for medical use
PET (polyethylene terephthalate) film, widely used in common face shields for medical use, "easily fogs with breath and heat" and "has low clarity to compromise vision." There properties have caused burden on healthcare workers, who must wear a face shield at all times due to the current COVID-19 pandemic.
Applying unique anti-fog coating to TAC film, which passes light straight through
face shield material that stays always clear and comfortable to wear
Fujifilm has applied unique anti-fog (fogging prevention) coating to high-clarity TAC (cellulose triacetate) film, manufactured as the substrate for photographic films, to supply it for use on face shields. It maintains clear vision, reducing the strains of healthcare workers.
High clarity, developed for photographic films, to reduce the strains of extended wear

Absorbing fog-causing moisture across the surface to prevent fogging

Resistant to alcohol and other cleaning detergents to maintain the anti-fog property

Highly durable, heat resistant and anti-static to enable extended use in comfort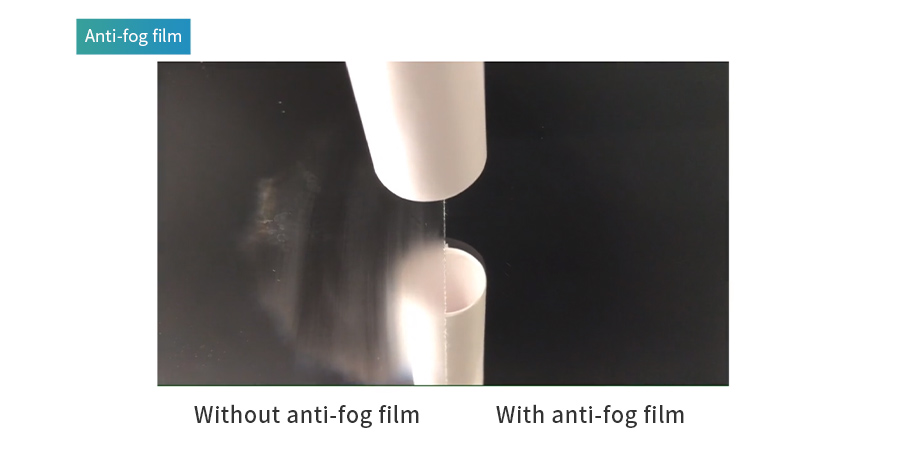 High-clarity "TAC film," also used in LCD displays
・Fujifilm has long manufactured TAC film as the substrate for photographic films, which requires "clarity and smoothness to let light straight through." (Product name: FUJITAC)
・Due to its advanced optical performance, TAC film is also used as an essential film material on LCD displays for smartphones, televisions, etc. across the world.
・It is an environmentally-friendly material, produced from the plant-derived natural material, cellulose.

Unique anti-fog coating that prevents "initial and long-term" fogging
Fujifilm applies unique coating on the surface of TAC film to add moisture absorbency and hydrophilicity, thereby preventing fogging both at the start of condensation and over an extended period of time for clear visibility.