Department of Radiology, Faculty of Medicine, Thammasat University Hospital and FUJIFILM (Thailand)Ltd. revealed the FDR nano, a digital portable X-ray device, equipped with a new type image processing kit to facilitate diagnosis for COVID-19 patients with less time-consuming. (First installation in Thailand)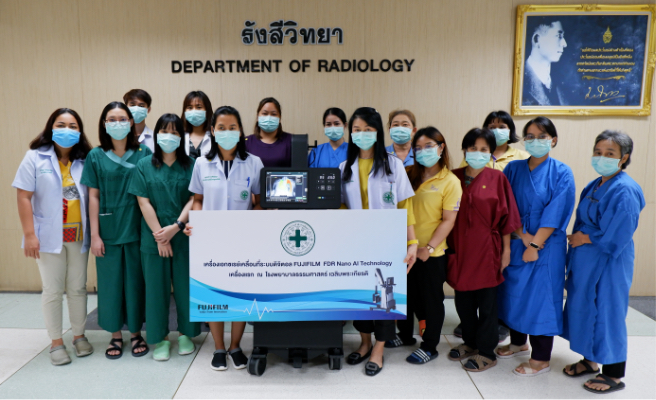 In the midst of COVID-19 pandemic in Thailand with continuously increasing rate of COVID-19 patients, this crisis affects medical staff in various hospitals and health centers who unstoppably dedicating themselves to treat COVID-19 patients under insufficient numbers of the medical staff and facilities conditions. Department of Radiology, Faculty of Medicine, Thammasat University Hospital collaborating with FUJIFILM (Thailand)Ltd. revealed the digital portable X-ray equipment called "FDR nano" equipped with a new image processing part enabling to connect with software such as Artificial Intelligence-Computed Aided Diagnosis (AI-CAD) *.(First installation in Thailand) This portable X-ray machine which is for screening and diagnosis through general X-ray procedure will assist medical teams to not only diagnose COVID-19 signs with more efficiency, but also reduce COVID-19 infection risks.
Assoc. Prof. Dr. Pharuhat Tor-Udom, Director of Thammasat University Hospital, mentioned that "In COVID-19 outbreak crisis in Thailand, medical staff all over Thailand's hospitals are perseveringly dedicating to COVID-19 patients' treatment. Thammasat University Hospital collaborating with FUJIFILM (Thailand)Ltd. will utilize this advanced FDR nano to screen patients through disease signs on respiratory tract, especially lungs as COVID-19 target organs. This portable X-ray device is the Thailand first's unit operating at Department of Radiology, Thammasat University Hospital to facilitate physicians to diagnose X-ray images with time-efficiency. Additionally, the device could contribute to reduce COVID-19 infection risks to physicians and operating medical staff."
Mr. Mamoru Morota, Assistant to Managing Director of FUJIFILM (Thailand)Ltd., mentioned that "Fujifilm is eager to become a leading company in not only photo business imaging, but healthcare and medical systems under slogan of "FUJIFILM Value from Innovation". Fujifilm has been continuously improving innovations with advanced technologies in healthcare fields. Under COVID-19 crisis, Fujifilm affiliating with J.F. Advance Co., Ltd. collaborates with Thammasat University Hospital to reveal the mobile X-ray FDR nano which equipped with a image processor kit. The FDR nano will facilitate physicians to screen and diagnose signs of respiratory diseases, in particularly COVID-19, Physicians can notice and diagnose the unusual signs or disorders more rapidly, to increase a chance for patient therapy. In addition to the medical devices, Fujifilm also supports hospitals with experienced specialists to maximize the device's capacities."
"Obviously, Fujifilm is perseveringly developing innovations for medical fields under the concept of "Never Stop". Furthermore, Fujifilm desires to establish another brand image and recognition to Thai society as a leading company for total healthcare solutions."
"In the current advanced technologies of medical fields, Fujifilm is known as a remarkable and high-quality medical equipment innovator and various hospitals or healthcare providers can trust our medical equipment along with professional specialist and service teams, which ready to support all around the clock. Besides creating innovations for medical technology, Fujifilm desires to take part in elevating current medical treatment and improving better medical solutions." Mr. Morota stated.
Note; Fujifilm makes no representation that products are commercially available in all countries.*
Approved uses of products vary by country and region.
*Only the software which validated by Fujifilm can be installed into image processing kit.